The Fun Factory in the News
www.byways.org/explore/activities/snowmobiling/stories/72799 Check out the info from the Scenic National Byway and our great snowmobiling trails! All photos by Fun Factory! Happy renters, your trusted Fun Factory guide Daren, Nick and Angie on the Green 488, and our best pal Mindy happy as can be at The Butte Creek Bridge after a nice powder day!
"Tin Dog Rush," Article in the Record Searchlight Sunday, March 5, 2005
Editorial in the Pioneer Press Wednesday, January 8, 2003
Siskiyou Daily News article about local dog sledder, Pat Campbell
The Fun Factory is proud to sponsor "Jodi Plackner" budding dog sled musher-ette!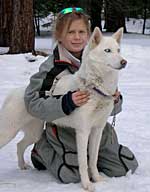 Jodi is 9 years old from Portola Ca. and loves dogs, animals and her very supportive mom!
Her trusty 4 legged team include Majic, Loop, Angel and Piper, and she trains with the prestigic Kathy Miyoshi and her ArticeGrace Dog Sled Team from Sun Valley, NV.
We look forward to watching you compete in a sport you enjoy so much!
You go girl!
M&D @ Fun Factory
---
The Fun Factory is also proud to have sponsored Tyson Holleman!



Click on image for larger view
Partners, Lodging, and other useful Links
RECREATION

Mt Shasta Resort
Restaurant & Bar and Chalets and seasonal golf
---

The Mt Shasta Snowmobilers Snowmobile Club
Ride with friends...Join the Club! Riders of all ages!
www.snowcrest.net/mssc
---

---
Living Waters Recreation

The ONLY 5 STAR RATED Rafting Company in California and Oregon!
"He's the Good stuff!"
---
Dogsled Express Dogsled Rides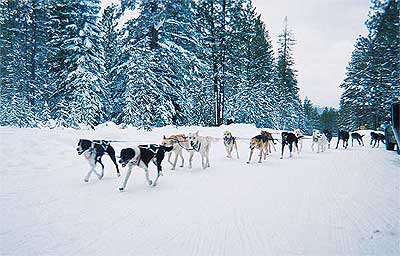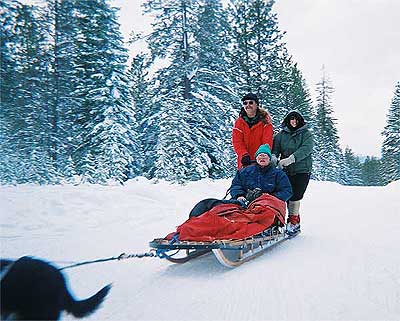 DogsledExpress.com: Experience a true Dogsled adventure ride!
---
Do you like exciting outdoor recreation?
Lake Shasta Caverns: "With a boat ride across Shasta Lake, a bus ride to the cavern entrance, and a one-hour guided tour through the caverns, Lake Shasta Caverns is 'Three Adventures in One!'"
www.z100fm.net: It's your source for great rock N roll in Mt. Shasta and world wide! It's a cool site; check it out!

Lake Shasta Alpine Helicopter Tours: Offering aerial tours of Mt. Shasta, Lake Shasta, and the surrounding area. Also offers in-flight or on the ground weddings! Check them out today and plan your next adventure!
---
LOCAL BOARD AND SKI PARKS
Mt. Shasta Board and Ski Park has winter and summer activities for all.
Mt. Ashland Ski Park, located just north of the California/Oregon border off I-5
---
GEAR AND OUTFITTERS
Total Escape California - Off the Beaten Path
Enjoy the great outdoors? Then you'll love Jack Trout's site! www.mtshasta.com
Shasta Base Camp, mountaineering and backcountry supply and information center for the mount shasta area.
Sportsmen's Den sporting goods and clothing. "This is where to rent clothing to snowmobile" boots, jackets, pants and gloves rent them all here!!!(530) 926-2295 tell em 'fun factory sent cha! Mt. Shasta's largest snowboard shop with rentals, service and sales.
The Fifth Season climbing and ski shop, offering equipment rental and clothing.
Boardwarm/Mtn. Threads Hat & Clothing Co. A local manufacturer of winter apparel.
---
FOOD AND LODGING

Shasta Ranch Lodge Living Room You are bound to have a great time on your winter snowmobiling vacation, and what better place to stay than Shasta Ranch Lodge. What a great combination, lodging and snowmobiling.
The lodge is centrally located to all four parks, it is one of the premier winter vacation homes available in the Mount Shasta area and provides plenty of parking for your trucks and snowmobile trailers. Just click the "SRL" brand above to inquire about your reservation.
Visit the new excellent restaurant in Mt Shasta: STRINGS RESTAURANT Ph# 926-5433
316 N. Mt. Shasta Blvd. Mt Shasta… Italian and Seafood and more!
Michaels Restaurant 313 N. Mt. Shasta Blvd: call for reservations, 926-5288
Phenomenal gourmet food in cozy setting!
Lillie's Restaurant- 1013 Mt. Shasta Blvd 926-3372
Mt Shasta Resort Restaurant & Bar and Chalets and seasonal golf
Lake Shastina Golf Resort, Restaurant and Lounge
Looking for a great place to spend the night ??? Stay in your own furnished condo or furnished vacation home at the beautiful LAKE SHASTINA GOLF RESORT!
1.800.358.GOLF
Hi Lo Restaurant, Motel and RV Park in Weed. A local favorite! 938-2731
Comfort Inn ~ Pet friendly!! In Weed, Ca. 938-1982
Pizza Factory at the Y in Weed! 938-3088
---
NATIONAL AND LOCAL RESOURCE SITES
Klamath National Forest website
Klamath National Forest: Recreation Page
Klamath National Forest: Outfitters and Guides
Mt. Shasta Chamber of Commerce
Siskiyou County Visitors Bureau
Check out Robin Kohn's great new book"Mount Shasta Guide to Fun" with activities to do in all seasons. she know her stuff cuz she does this stuff! Let her help guide you in the right direction!!! visit www.mountshastaguide.com