Our Snowmobile Rentals are currently closed for the season.
See you again next winter for loads of fun in the snow!
In the meantime, check out our Guided Boating Adventures this summer!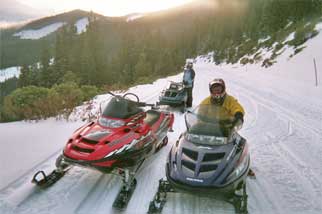 Sunset on Pomeroy Ridge
Ever find yourself daydreaming about touring over 250 miles of groomed trails in the Klamath, Modoc and Shasta-Trinity National forest on a snowmobile?
Don't just daydream--- get out and do it!
Snowmobile Rental Rates

1 hour rental:
$65.00*
3 hour rental:
$150.00*
6 hour rental:
$250.00*
24 hour rental:
$350.00*
Your snowmobile rental includes helmets and a 20 minute instruction period.
*Fuel is additional, and available at our Deer Mountain location. Your fuel can last from 4 to 8 hours depending on conditions and your riding style.
ADVANCED RESERVATIONS STRONGLY RECOMMENDED
RENTERS Must be 21 with valid drivers license in possession
DRIVERS Must be 16 with valid drivers license in possession
Rental rates above are unguided.  Reserve a guide for the ultimate ride!
Guide Rates

Per hour:
$25.00
3 hours:
$70.00
8 hours:
$160.00
Click here for a map to our location!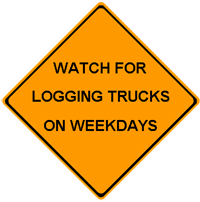 The Tri-Forest Snowmobile Trail Conditions Report is updated every week or as trails are groomed. Mark this page as a "Favorite" and check conditions before you go.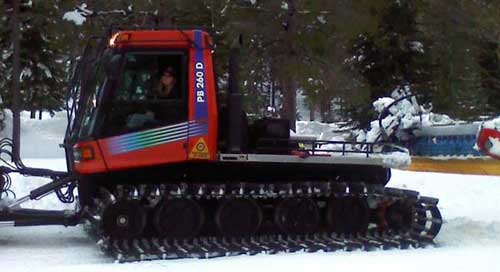 The Fun Factory also offers...
Snowmobiles-to-go, off site guides and Snowmobiles with drivers for hire.

We can staff your filming event, industrial repairs or forestry inspections with qualified snowmobile drivers or guides.

We require a minimum 10-day cancellation or a minimum charge of $50 per machine and up to the full amount of the rental will be due.

Guided full moon rides available with advanced reservations

All reservations are subject to cancellation due to weather or hazardous road or trail conditions.
Important Snowmobile Safety Information
Ask about our Snowmobiles To Go!
To Go Deposit: $3000 - $6000
2 place tilt trailer to go: $50.00 per day and $2,000 deposit.
The Fun Factory is your watercraft and snowmobile rental source in Northern California. Winter or summer, we have your recreation covered!
Fully Mobile Operations!
Snowmobile Rentals @ Deer Mtn. Snowmobile Park
Watercraft Rentals @ Four Great Northern California Lakes

Phone: (530) 926-5387
24-HOUR INFORMATION HOTLINE
Click here for the latest Tri-Forest Snowmobile Trail Conditions Report

Weather at Deer Mountain
The Fun Factory operates under a special use permit issued by the Klamath National Forest, Shasta Trinity National Forest and the Modoc National Forest. The Fun Factory does not discriminate on the basis of color, race, religion, sex or national origin.